Larbre Competition, who will enter the LMP2 class of the 2018/19 FIA World Endurance Championship Super Season, were delighted by the performance of their Ligier JS P217 at the Paul Ricard Prologue (6/7 April).
For the first official test of the season, drivers Fernando Rees, Romano Ricci and Erwin Creed completed 1054 km between them across the two days, without any problems for the Onroak­prepared car.
With experience in LMP3 machinery, Ricci and Creed used the 30­hour test to acclimatise themselves with the faster LMP2 car, which both were driving for the first time.
Rees, who will be returning to the team following a strong showing at last year's 24 Hours of Le Mans with Larbre, also put in good mileage, as he looked to reacquaint himself with the LMP2 class, having driven a Zytek in 2008 and '09.
The French squad focused on multiple high­fuel stints, using the new range medium compound Michelin tyres, as they looked to collect all the necessary data for the upcoming Super Season, which will be the first full WEC campaign for the Ligier JS P217.
Next up for the Val de Vienne­based team will be the first round of the 2018/19 FIA
WEC Super Season, the 6 Hours of Spa (5 May), before the build­up to the world­ famous 24 Hours of Le Mans (16/17 June) begins.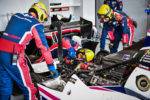 Jack Leconte: "We've now officially stepped into the deep end! This is a completely new adventure for the team, with a change of class, welcoming two new drivers, and technical staff with prototype experience, as well as the Michelin tyres, which have increased their involvement in the series for this campaign. We are happy to be rejoining the WEC family.
"From the moment we started on Friday morning until the very end, we did not have a single problem. Our partner, Onroak, has done a fantastic job in preparing the car – the drivers enjoy it, it's safe and very reliable. The potential pace is quite a surprise for Romano and Erwin, but this test helped them understand how much they need to prepare and we have established a good working base for what will be a very long season together. Like Fernando, Both of them did not make a mistake, which is no surprise considering they completed a full season in LMP3."
Fernando Rees: "It was a good experience for us all at Paul Ricard. Every time we took to the track we improved a little bit and the data from Ligier was very positive. I didn't do a high number of laps but I am happy with my performance. In 2008 and 2009, I raced in LMP2, but this was a long time ago and these cars are much different to the old ones. Everything is new and we're not far off the fastest cars, which is better than expected."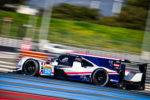 Romano Ricci: "The test was positive. The goal was to learn the car and I definitely progressed. I did around 46 laps and we weren't too far off Fernando's lap times. During race simulations especially, we were very pleased with the pace. The 6 Hours of Spa, the test at Monza and the official Le Mans test day, will all be important in our preparation for the main 24­hour event. We are not here to win the championship, but
to show what we can do and hopefully surprise people. Our mission is to not make any mistakes, be conservative and pass those who do make errors.
"Other than Toyota, the LMP1 cars are only a couple of seconds quicker than us, so I'm expecting to see an LMP2 on the podium at Le Mans. If we can finish in the top 10 in class, then I would be delighted. Traffic management is fine, we can overtake the GT cars wherever we want, such is the speed difference, and we did not block each other too much.
"The top speed is good on the LMP2, but what's most impressive are the aerodynamics and the sheer amount of grip. We need to get used to it, as well as the physical challenge we face in the races."
Erwin Creed: "I felt this test went very well. It was a big step compared to LMP3, I did not think the gap would be so much in terms of braking, overall grip and cornering speed, you need to be very fit to drive these. Considering this is our first outing in the car, we are satisfied with the lap times. We ran with used medium tyres and a full tank of fuel, so we weren't in qualifying mode, and were not too far away from the reference times.
"It will be important to work on my fitness, and we also need more time in the car. I need to make sure to physically train on a daily basis and eat healthily! It's also important to be relaxed heading into races and be better prepared.
"After racing in LMP3, I am used to managing traffic with GT cars. LMP1 during this test were not at their real level of performance, so it's difficult to judge how it will be in the races. The rest is very manageable, it will certainly be different when we get going but we will have to be sure not to lose any time while overtaking, or being overtaken."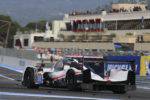 2018/2019 FIA World Endurance Championship calendar:
Round 1: 6 Hours of Spa, 5 May
Round 2: 24 Hours of Le Mans, 17/18 June
Round 3: 6 Hours of Silverstone,19 August
Round 4: 6 Hours of Fuji, 14 October
Round 5: 6 Hours of Shanghai, 18 November
Round 6: 1000 Miles of Sebring, 15 March 2019
Round 7: 6 Hours of Spa, 4 May
Round 8: 24 Hours of Le Mans, 15/16 June